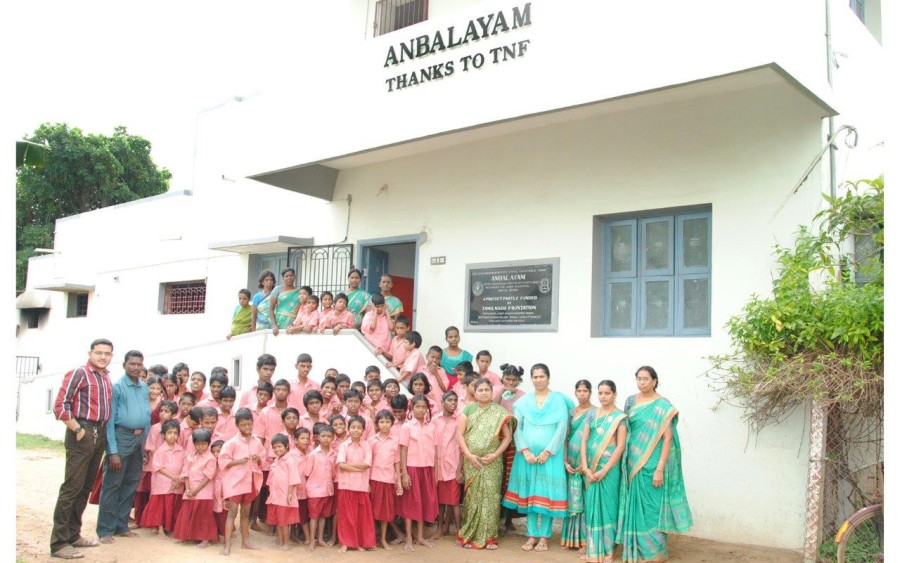 As per the census 2011 there are more than 10 million special needs children in India. The parents of those children are unable to keep them and provide the medical facility due to their economic condition.
Anbalayam (Meaning: Loving Home) was founded in 1998 by Mrs. Meerabai Egambaram, a single woman. It was started as a sanctuary for abandoned special needs children in sirkali, a small rural town in Tamil Nadu. Soon, children from several districts found their way to Anbalayam. Most were abandoned by their parents who are impoverished agricultural laborers unable to support a special need child. The nature of special needs children include mental retardation, cerebral palsy, down syndrome, autism, and multiple disability. From the year 1998  Anablayam was functioning in rented tiny house which was getting dilapidated and the land lord forced them to vacate. The children starved on most days as there was no sustainable source of funding for food. Meerabai approached TNF in  2006 and TNF, through funds raised by the Philadelphia Tamil Community, bought 3 grounds of land and built a 3,000 sq.ft building as the new home for these destitute children.
Tamil Sangam of Central Indiana and Dallas – based Sastha Tamil Foundation (through a"Angel Janani" Project) have initiated creation of corpus funds to provide food for these children. At present there are 65 mentally challenged children residing in Anbalayam. Two specially trained teachers are teaching the children. One physiotherapist visit Anbalayam regularly to give physiotherapy to the needy children.
A common hall was used for multi purposes including dining, sleeping, learning & playing for children which was practically very difficult during the rainy seasons.
TNF has developed a 5 – year plan with a lofty goal of established Anbalayam as a role model center for rural special needs children. The plans were executed in slow and steady manner. They are as follows:
Three classrooms were constructed to educate the children and to train them to become self-reliant
A health room was made available to provide physiotherapy and basic health care needs to the children
Rooms for boys and girls were constructed separately
With the help of US Tamils a Corpus funds of One Crore was created . Food, staff salary and health care facilities are being taken care with the help of interest earned out of Corpus Fund.
Resources (machines and trained staff) for vocational training such as making envelopes so that the "mind" and "moderate" category grown up children can be gainfully employed and do not become a societal burden
Networking opportunities with other leading organizations serving special needs children in Chennai.
Tamilnadu government has given approval to the home and meet the salary for two teachers who are specially trained to handle mentally challenged children and also subsidy for food expenses..
Now after ten years of continuous efforts of TNF, Anbalayam has reached a self sustainable stage where the home will be able take care of the children.