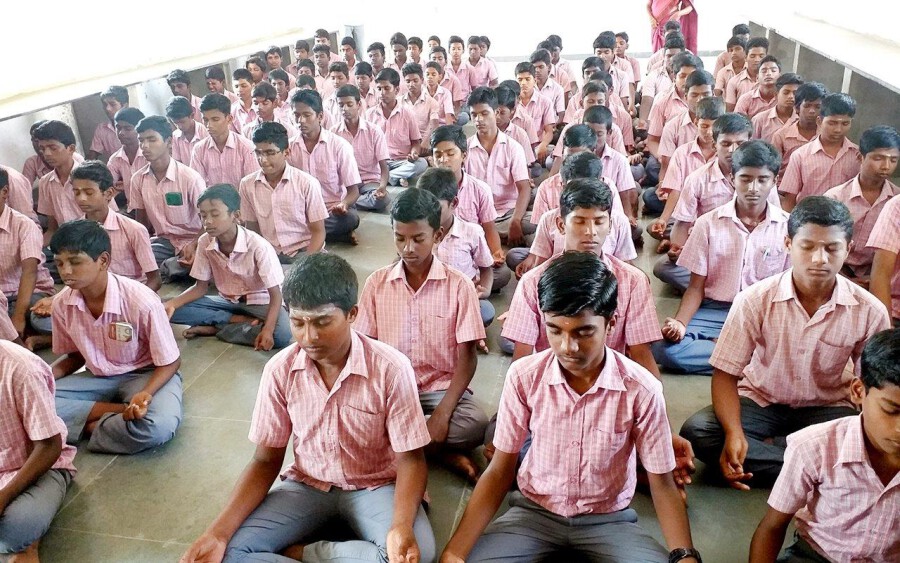 More than 54,71,544 school children from 16,300  revenue villages benefited from Tamil Nadu's 37,459 Government Schools. The TNF – ABC (Academic Bridge Course) model mission is to work for the upliftment of the rural students by enabling them to achieve grade level proficiency, boosting their morale, and championing for their academic aspirations. The TNF – ABC Project was conceived and developed by a study team consisting of Students, Teachers, Parents, School officials, and TNF representatives from Chennai and U.S to work in line with the Government in improving the quality of education among Government School students.
Funds mobilized through TNF's Pittsburgh convention in 2008 and the Philadelphia convention in 2010 enabled TNF to pilot school Education Projects in Chengalpattu and Sivagangai Districts. This has lead to the evolution of the TNF– ABC Project, which has now been expanded to Ranipet, Cuddalore, Thiruvarur, Namakkal, Nagapattinam, Thoothukudi, Thenkasi, Thirunelveli, Mayiladathurai, Ramanathapuram, Salem, Coimbatore, Karur and Chennai Districts.  TNF's Memorandum of Understanding (MoU) with the Government of Tamil Nadu enables its local project coordinators to work closely with the adopted schools and the village community in making a positive impact on the lives of thousands of rural underprivileged students.
Three Unique aspects of the TNF – ABC Model:
A – Achieving Grade Level Proficiency – Uplifting the "Slow Learners"
B – Boosting the Morale
C – Championing for Higher Aspirations
A- Achieving Grade Level Proficiency – Uplifting the "Slow Learners"
Some students are unable to cope with the normal standard and fail to achieve grade level Proficiency. Such non-achievers in each class/grade require special student specific approach even read and write their own name even in their mother tongue in Tamil. They fail after 9th grade or drop out of school because of academic pressure.
TNF's Solution: Special Evening Classes are conducted in the adopted schools by TNF – ABC teachers for students identified as "Slow Learners" by their teachers. The intent of these classes is to help students develop their proficiency to learn the fundamentals and pass the final exam.
B- Boosting the Morale
TNF – ABC Model bolsters the morale of average and above average students in adopted schools by inculcating the following skills through training sessions and seminars:
Self Confidence
Communication Skills
Time Management
Motivation
Memory Capacity
Goal Setting
Self – Discipline
Human Relations
Hard work and Smart work
10th and 12th grade public exams are important milestones in student's lives and significantly influence their future. By organizing free coaching classes by well trained teachers, TNF – ABC Project enables the students to better prepare for these key exams and pursue their dream of higher education.
C-Championing for Higher Aspirations
With the help of the Head Master and Teachers, Students with Higher aspirations and capabilities are identified, and their ambitions are nurtured through individual or group oriented initiatives such as:
• Mentoring
• Summer camps and Computer Training in Village libraries
• College Visits
• College application process support
• Scholarships
• Career Guidance
• Internships
• Job Placement
Training to TNF – ABC Project Teachers
Initially TNF – ABC Project teachers were given three days of training on "Basic Methodologies in teaching" by i-beam Academy and subsequently by Xseed item.
Recently, two days training programme to 84 TNF – ABC project teachers an Conceptual Teaching, Learning Methodologies and Pedagogical Practices was given by Sarva Siksha Abhiyan project of the State Education Department.
These trainings are aimed at further improving the teaching methodology of TNF – ABC Project teachers.
Accomplishment of ABC Program (2012 – 2018)
No. of Schools adopted for ABC Programs – 51
No. of Coordinators appointed – 6
No. of ABC Teachers appointed – 84
i. No. of Students in ABC Coaching classes (Std 6 to 9)  – 10,417
ii. No. of students benefitted two days Soft skill training
(for class X)                                                                       –  6,934
iii. No. of students taken as college tours (for class X)       –   973
—————————————————————————————————————-
Total No. of Students benefited                                          – 18,324